Our Family
Photo Above: The Meagher girls at Sydney Royal 2014, with Adele, Rocky and Albert.
Photo below: 2021 Sydney Royal Easter Show, Aimee & Laura with Uno.
Photo below : 2021 Sydney Royal Easter Show, Yogi & Debbie with Dyno and Dan.
Photo below: Christmas 2005, Yogi, Debbie, Laura and Aimee.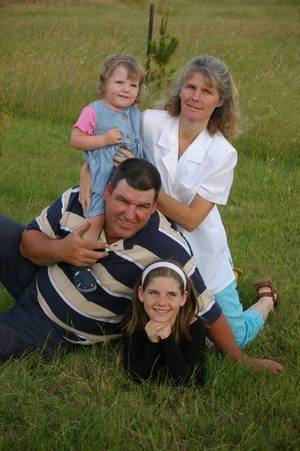 Goldmaid is the home of 4 humans, Myself, My husband Yogi and two lovely girls, Laura and Aimee.

Goldmaid Welsh started in 1987 with the purchase of our first bitch, from Elaine McVeity - Ch Tanjanova Gold Sheen. Sheena did her fair share of winning, with Sydney Royal Bitch Challenge, Canberra Royal Best of Breeds and Welsh Springer Spaniel Club Show RUBIS and class in show awards.

We Mated Sheena to Braint in 1989 and that was a wonderful combination and it produced 2 BIS/BISS Winning Grand Champions, and from then on as they say the rest is History. We must thank Elaine McVeity and Tanjanova for the great guidance and wonderful help in starting us off in the Welsh Springers, without her lovely lines and dogs we wouldn't have gotten where we are now, being one of Australia's highest achieving welsh springer kennels, we have produced 5 grand champion welsh springers and a few more nearly titled, with over 25 Australian Champions and a few Obedience champions to our credit. (not including cockers and weimaraners that we have bred).

Goldmaid Welsh Springers is located on the Central Coast of NSW, just over 1 hour from Sydney.

The Dogs love being here, when not swimming at the beach they are running about getting lovely and dirty, they are doing what dogs love to do best.
Both our girls Laura and Aimee are active in the Dog World helping people handle there dogs, and training youngsters to love showing like they do. Both girls have won Multiple Best in Show awards with our own dogs and other peoples dogs they handle.

Our dogs are more than just show dogs they are our family pets. (As Rusty would tell you after being bathed and blowdryed for a dog show to take off and chase the geese into the dam and some 1/2 later decide to come out once you've caught a baby goose, to then have to have another bath for the show the next day.)

All our breeding stock at Goldmaid is hipscored, elbow scored and eye tested, including eye testing for Goniodgensis as we are breeding for the future of the breed. Our Australian Shepherds are Hip, elbow, eye tested and full DNA profiled before breeding, we also litter eye screen before placing in homes.

All enquiries welcome. Puppies occasionally available and bookings are recommended.

Keep an eye out in the puppies section on our website for futher details on any litters available.